Cycling in Bali - Bukit Peninsula - 2015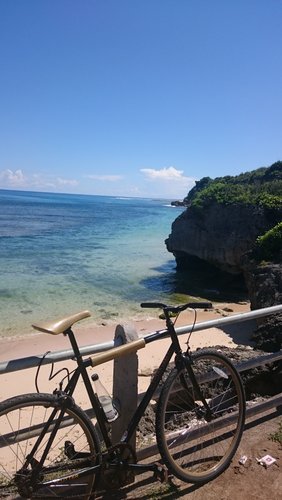 As our hotel was loaning out single-speed touring bikes for free (so long as you weren't out for more than a couple of hours), Amalendu and I headed out on a pretty spontaneous (=aimless) ride down south from Nusa Dua.
The roads were nearly empty - if you're not on a through-road or highway, but just on the backroads, you don't see much traffic on the Bukit Peninsula. We just roved around the roads and trails (some roads marked on GPS were just dirt tracks, so bear that in mind when you plan your route!) discovering retreat centres, sleepy hamlets and beautiful Balinese cows chewing in the sunshine as we went. And, of course, there were beautiful temples on every road - this is Bali after all.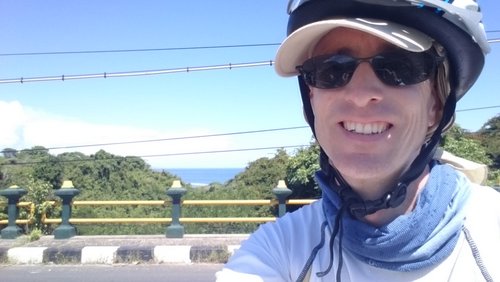 As we wound back towards Nusa Dua we took a road signposted to Geger beach & temple, and this brought us to a secluded beach where only a couple of seaweed harvesters were on the sand. In any other place a beach like this would be a mecca for tourists but it was virtually empty. We locked up the bikes and wandered down there.
Nestling among the rocks we found a shrine to Lord Ganesh right there on the beach - it was secluded and amazingly peaceful, so we stayed to meditate for a few minutes to the sound of the waves.
Few shrines in this world can have such a beautiful view.....
After that it was time to grab a selfie just to prove I had visited paradise, then head back to the hotel.
If you head for this beach check the tide - the shrine not so easy to visit at high tide - we were fortunate to be there at exactly the right time.