Hike from Ubud - 2015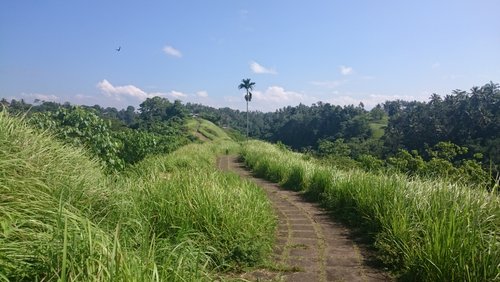 From the bustling streets of Ubud you can get out into the amazing Balinese countryside in no more than a few minutes. I hiked with Kokila on a well known route - the Campuhan Ridge - which has the added incentive of a beatiful rural cafe as the turnaround point. As you can see from the pic, the trail is more than just a dirt track - they have paved it so the locals can get motor scooters along here and commute into Ubud from the surrounding villages.
From our starting point near the Ibah hotel, we climbed down to the river - very full and fast flowing, it being the rainy season - then across a small bridge to the Campuhan trail. A new temple, only recently completed, makes a stunning backdrop to the first half kilometre.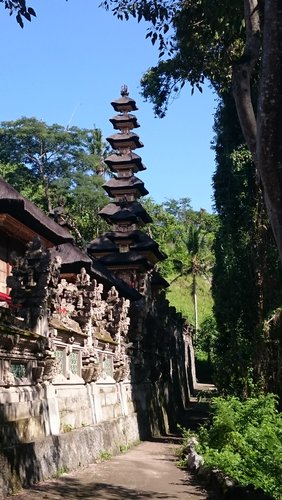 From here there's a bit of a climb on to the ridge, which runs between two wooded river valleys at first, then opens out into lush greenery at the top of the ridge and then gorgeous rice fields. It was around 35 degrees and humid so we took it easy - no speedwalking!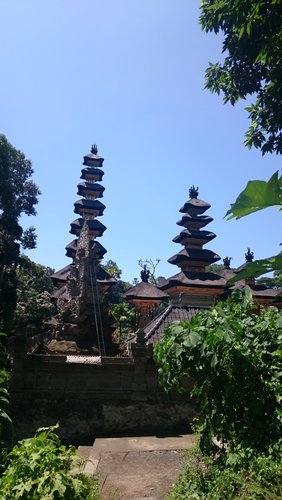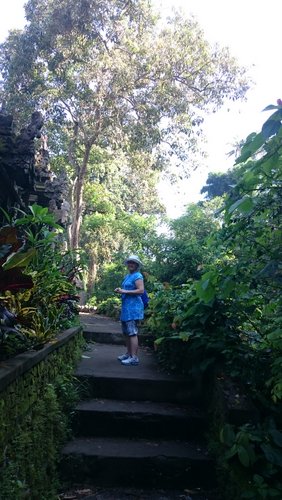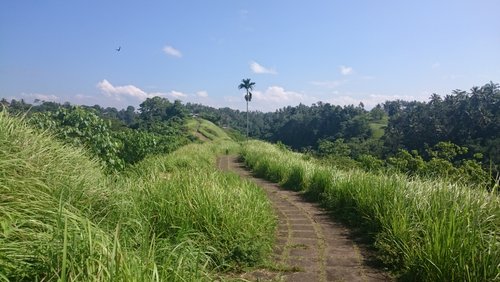 The open grassland at the top was so peaceful - you could hear the waters of both rivers and the sound of a gamelan group practising on the far side of the valley, but not the traffic of Ubud only one or two K away. From the grassy ridge a narrow road led out into the rice fields - many shades of green and the slow, ancient rhythm of Balinese life all around.
Turnaround point for this out and back hike was this cafe out among the fields - as well as lush juices to refresh us, it had the obligatory lotus pond and, this being Bali, its own Spa.
Suitably refreshed, and even more unhurried than on the way out, we headed back to Ubud.
Next on the agenda was shopping - we had to buy something to give out as "prasad" to 275 people in honour of Kokila's birthday, but we were able to get a good deal on floating candles as the number of tourists is slightly down on the usual right now (fewer Australians I'm told) and that meant our rupiah were more in demand. After streets of Ubud there was time to visit our favourite spot in the whole of Bali for a meditation at Sri Chinmoy's statue at ARMA (Agung Rai Museum of Art). Always a wrench leaving Arma, but hopefully we'll be back one day.