Gunung Agung Summit Trek, February 2009
After a swifter than expected drive of little over an hour from Sanur, we began our trek at the temple complex of Besakih in the hours before dawn on a humid but cool evening in the wet season. We opted not to take a guide, and our driver was able to point us in the right direction for the trailhead - it really was a case of go straight up the stairs to the right of the main temple and just keep going up!
Besakih is spectacular - seen here on the way down, as no moonlight photo would have captured it properly. The trail is a very gentle climb at first, between small fields of vegatbles and peanuts (known as the temple gardens) with the occasional dog barking to warn us off his patch. We climbed quietly, with head torches to find our footing on the easy path which was actually paved to begin with, then became a dirt track as we left the tiny houses of the gardens behind and approached the highest temple some half-hour's stroll from the main complex. Beyond this upper temple we entered the forest proper, and the climb steepened gradually but was never too tough. Everything was damp and dripping - like cloud forest - and soon we encountered leeches, all of which seemed to have a preference for Suswara for some reason, and kept appearing on his hands and ankles. The undergrowth was lush and overhung the trail so there was no way to avoid brushing against it, so we stopped frequently to check each other for the little bloodsucking beasties - fortunately they were only small, like tiny slugs, not the dreaded tiger leeches.
Our team was truly international - a couple of brits, 2 czechs, an aussie, a german, and an american! Myself, Suswara and Daulot kept an easy pace, while the fitter guys pushed on quickly and waited occasionally for us to catch up. Dawn broke as we got abouut half way up, and going became easier in the half light despite the increasing steepness. The trail is not well maintained, but it is pretty good, and there are only a couple of places where you could take a wrong turn, as we did, and find the trail you are on petering out into nothing. We just retraced our steps a short while and found the line of the good path again and all was well.
Once out of the trees, there is a steep step up onto the steepest and rockiest section, devoiid of vegetation, which leads to the crater rim and the summit itself by long striding-edge style ridge with steep drops to either side and a solid, gravelly path along the crest. The pics show 1.us at the summit, 2. the "striding edge" ridge, 3. view above the clouds, 4. into the crater (last eruption 1963), 5. Amalendu welcomes Suswara and me to the summit and 6. A monkey tells us it's time to go. That monkey followed us quite some way from the tree line to beg for food, and we gave him a little bread as we munched our breakfast at the top.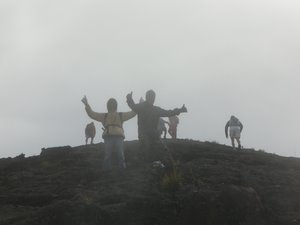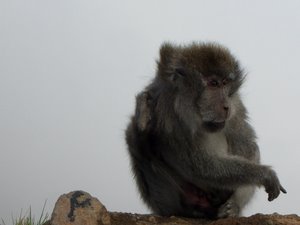 It was windy and cool up top, so we got jackets on and didn't hang around - it was off down the ridge whence we had come. The ascent had been 4.5 hours, but going down was to prove a sterner test!
The fast team were soon out of sight, leaving me with Suswara and Daulot just behind on a wide scree slope, very steep and also very loose and fragile. I was edging down on my backside, with gloves on so I could use my hands for grip, and even then going was tricky and holds kept breaking off in my fingers. I had a few slips, only inches each time, and realised it was going to be a very long slog getting down. I called out to the others and we agreed that we had strayed off the best line - we began to contour around looking for the real path. Soon we found it, and going got easier, but when the other two joined me at the steep "step" that I remembered from the way up, Suswara was bruised and cut from a nasty fall on the scree, and looked like he was suffering. That kind of shock knocks the breath out of you and leaves you tired and rattled, and although he was very tough about things I knew he was pretty wasted and in for a hard time descending another 1800 metres.
Slowly we edged down, tired legs finding it hard to negotiate the damp and loose path, until we encountered some camping trekkers near the tree line. One of them had something resembling iodine, and Suswara took advantage of an offer to treat his cuts, which was a smart thing to do in wet tropical conditions where infection is easy to pick up. The views were amazing coming down, as we entered the forest again with its flowers and the sound of songbirds and cuckoos. I could tell from my GPS though that we were not covering ground very fast at all - it seemed to take an age for the elevation to go down by even 10 metres, and we were trying to come down a total of over 2000m.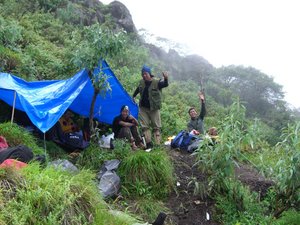 It began to get hot, and we were all in good spirits despite Suswara's obvious exhaustion and the tiredness we all felt in our limbs. We chatted and laughed and soon our progress was speeding up - the further down you get the less steep it becomes, of course, but it still seemed much longer than on the way up! After an age, and several stops for rest, drink and food, we saw the top temple once again and knew it was less than an hour to the taxi.
Once down into the temple complex, we collapsed by a trailside shop and bought coconuts - they each had a couple of pints inside but we downed it in not time, despite having already drunk our way through about 2 -3 litres of drink each on the trek. At the main temple, a huge procession was coming out, and we joined the throng as we descended the last mile or so on the road back to the car park. We had a great time, though Suswara's fall had obviously turned it into a bit of an epic from his point of view. Our ascent of 4.5 hours was a pretty good time, but it took 5.5 to come down, which shows how much of a challenge the wet, slippy and twisty trail was even to a bunch of pretty fit guys. This is a really stunning mountain, and the views from the top over to Lombok and Mt Rinjani above the cloud were amazing. I highly recommend a visit - but you may want to try the much easier route from Pura Pasar Agung (see my contents page) unless you are in pretty good shape - thouugh perhaps it's a darn site easier in the dry season!