Rose Inn 4 Miler July 08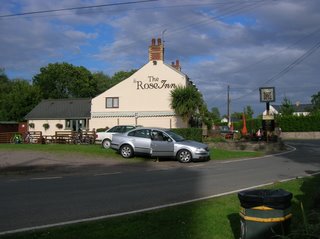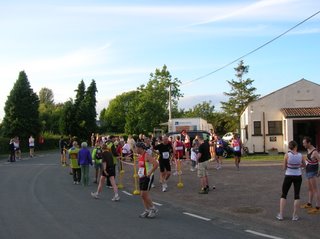 Images of the start and finish..
A beautful spot for a race - quiet, flat lanes down on the levels close to the mouth of the Severn, with the start/finish (and halfway point too, as it's a two-lapper) at the eponymous public house in a lovely old village. Early as usual, I went for a slow stroll around the lanes, enjoying the silence and stillness. I still had plenty of the Ras Guto Nyth Bran in my legs, but the sports massage from the night before had gone some way to easing the stiffness. I felt pretty fit, but this was my first road race since April and I didn't know how it would feel. I had never been under 24 minutes for this distance, my PB somewhere around 25, so it was definitely time for an improvement. If I could run the Draycote 5 at 6.07 pace, surely I could go close to 6 here? I set my watch for 6 minute laps in a moment of optimism.
Looking at previous results on the wall of the village hall, I guessed I should stand just back from the front and expect to come around 30th. After the starter set us off with a blast on his whistle, I settled into a pack at what I guessed was 6 minute pace, while the usual suspects at the front shot off to scrap for first place.
When I found myself settled in behind Mick Tabor, who I knew had done this in well under 24 minutes, I suspected I had gone off faster than expected. The mile mark came up at around 5.46 which was a shocker. The course, meanwhile, was a gently curving series of flat lanes - gorgeous countryside unwinding around us at every turn. I felt good, the world was beautiful and I was on for a PB. Mile 2 saw us turn into the wind - I decided I was unfairly drafting behind the guys around me so I took a turn at the front of our little pack - not sure if they saw this as "making a move" but they were back in front of me pretty quick as we got to the halfway mark in around 11.50 and came past the pub shortly after to the sound of much encouragement from the spectators enjoying the evening sun from the beer garden.
Mile three was another quick one, the wind making a big difference, and when I came to the 3rd marker I knew I was on for that PB and a first time under 24 minutes. I drew level with Mick who gave me some words of encouragement (worth a million dollars at that moment) which helped me kick on into the wind for a hard last half mile and a very satisfying 23.42.
All in all, this is a fantastic course and the atmosphere was superb. The "Beginners Group" from Chepstow got a huge cheer and a warm welcome at the finish - there were 5.30 milers and 12.00 milers and much in between. The evening was perfect - in fact the only thing that wasn't perfect was my routefinding on the ride home - I had been hoping to cycle back to Cardiff but a nicely taken wrong turn coming out of the marshes ended up with me taking an hour's hard riding to reach Newport! I was going to run out of daylight, so I pulled my return ticket out of my pocket and slumped on the train to doze back home.
When the results finally came out, I saw I had blagged thirteenth place, which by Roger standards is right up there. Very happy with that one (in case you had not noticed).