Purdown Hike New Year's Day 2013
Not really in shape for running or cycling after the PE, but wanting to start the new year with a decent session of some kind, I opted for 3 hours of hiking starting out from my home in Filton. Yes, I live in the suburbs of a major city but there is decent walking country within a mile of the front door if you know where to look, so I was out at around 10am in the brilliant sunshine. I'm used to putting races, long bike rides and hikes in the mountains on these pages, but for now a hike across town will have to suffice!
From the residential streets I headed up New Road then along footpaths and over the fields towards the UWE campus. Soon many of the fields here, alongside the Bristol Ring Road, are destined to be covered by 2600 new homes. They need to build, but I just hope they leave some kind of green corridor for the sake of all of us who live here, now and in the future. Green space is precious. I was wearing a heart rate monitor to keep my effort levels steady - since my heart and lungs took such a beating only three months ago, I'm still uneasy about pushing them hard. At the end of Coldharbour Lane I headed along the lane towards Frenchay and took a little-used footpath southwards in the direction of the Dower House. The path is little used because it's such a mudbath - even at the best of times it's tricky but after the wettest year since records began, it was a total mire. Ankle length boots had been a good decision! The path broke through the line of houses into a wood, with low winter sun slanting in through the trees from the southeast. Even on gentle slopes I found myself coming out of the top of my HR zone (114-144 bpm the watch had set for me, after a 5 minute "assessment"). That was all because of the mud making it such hard going. Oh well, I was out there to exercise so I shouldn't complain.
Where the path split left and right I headed straight on through a plantation, others had obviously done the same as I was following boot prints, and I came by a shortcut to a style then through a field to the main entrance of the university. From there a short section along Coldharbour Lane and I was back into the mud on a path circling the base of the Dower House, which sits on a steep-sided eminence looking out across what we once would have called the Frome Valley - now it's more like the M32 valley. Despite the motorway being so close, this section of Purdown is beautiful - I used to come here to do hill reps before going to Fell races, and if all goes to plan I'll be back doing just that some time in 2013. More unbelievably deep mud was the main feature as I navigated my way across Purdown heading for the transmitter. At one point I was hugging the scrubland at the side of the ridge, with several dogs and their walkers close by, when I spotted a fox skulking just a few metres away in the bushes. He seemed totally unconcerned by the nearness of all those dogs, which seemed strange, then I realised he had placed himself downwind of them and was effectively "invisible". It stirred some kind of dormant memory of being a hunter - must have come from the collective unconscious or a past life memory as I've only ever been to hunts as a sab!
Views from the ridge. That hospital on the right is Blackberry Hill - the ridge in the distance is the Cotswold Plateau north of Bath. Foreground is Eastville. Pretty nice green space for somewhere inside the city limits - shame about the motorway.
Looking back the way I came - the Dower House, the Obelisk and the Purdown woods.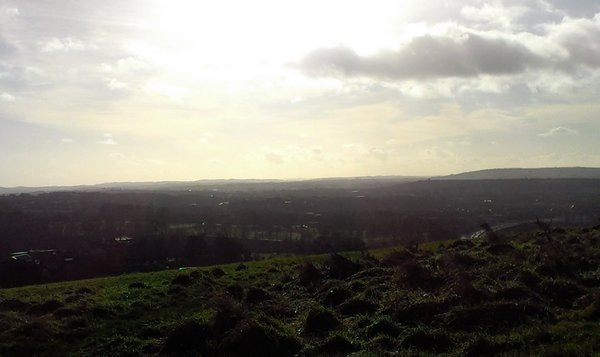 A hazy photo because of the sun - looking towards Easton.
From the transmitter I headed left, avoiding Sir John's Lane and taking the swampy dog-walker's field instead. There were amazing views over the city and the suburbs of Easton, Fishponds & Stapleton. Photos were from the phone and don't do justice to the lovely panoramas over Bristol - plenty of people come up here for some urban peace and despite the busy highway being so close, it's a pretty serene spot. By the time I reached this part of the ridge I was in a very meditative mood - feeling like I used to on a long run - can't wait to be back out doing just that.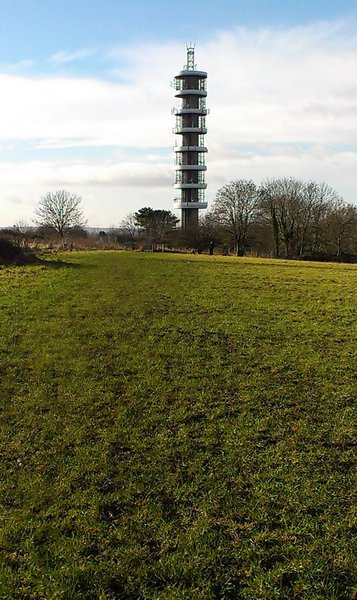 From Muller Road I passed through the Narroways, the woods and grassy slopes around the railway junction in St Werburghs. Kokila and I used to walk our dog here in the early 90s. It was the same as ever - today's dog walkers mingling with the tired-looking remnants of an all night party who were sitting by the ashes of their fire and playing guitars. That's very St Werburghs. From the Narroways I headed towards Montpellier, past the house on Fairlawn Road where I lived in '91 after moving to Bristol from Somerset. It was nice to be there again on that Sunlit Path.
Things started to get even more urban as I finished my hike along quiet city streets, with some relief provided by the sanctuary of St Andrew's Park.
In all I walked for three hours and burned around 1400 calories, my heart rate peaking on the steep slopes of Purdown at around 85% of max. When I start running again I'll be wanting to do intervals at that effort level so it was good to get there for a few seconds and feel that it was OK, not too much. Hopefully normal sport will soon resume so I can blog hill runs, triathlons, marathons....give it a few months though, after all I was virtually dead in September, so getting out hiking feels like a good start.