2 Mile Race Ermont-Eaubonne 2014
My last 2-miler had felt like a breakthrough - down below 12:30 again after such a long time. I'd hoped to push a bit faster on the next race, aim at 12:20 or 12:15, but in between had come a bout of flu/cold virus that had knocked me flat for a couple of weeks, and a break from running training while I concentrated on my long bike ride of the year - the Gospel Pass.
So, a week after the Audax ride, with just a couple of short but brisk runs behind me, I lined up with a few members of my international spiritual family for a race in the forest of Ermont-Eaubonne just 20k from Paris. My time didn't improve, but it was a great race!
Unnatishil explained the route - along the forest road, passing one barrier on the right then doing a u-turn at the second barrier (the half mile mark), then back to the start, round the marshal and repeat. Simples.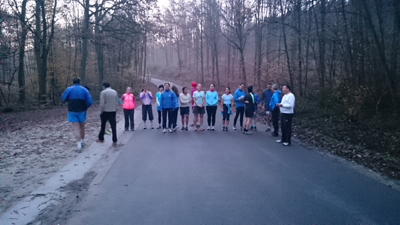 We headed off up the traffic-free road and into the trees, round a barrier almost immediately and then up a gentle slope. Out front was Cliff, with Suswara, Pierre, Prabala and myself close behind. At the second barrier, Cliff headed straight on and we had to call him back - he'd misunderstood the route - but that did mean that I could edge into second place behind Pierre with Suswara pretty much alongside me. It felt good to be running flat out, but it still felt strange - my body has grown unused to the effort of a race as injuries have been holding me back to merely "brisk" or "tempo" pace for a while. Nevertheless I thought I could keep up the effort I was making for the full 2 miles. After the turnaround it was clearly a case of me at full stretch, ouot of breath, chasing Pierre who looked and sounded somewhat more relaxed! At the 1.5 mile mark he gave ground as we turned and I actually took the lead, but I couldn't stay ahead on the downhill stretch to the finish and he eased up a gear to glide past me. Once that had happened I cracked a bit and slowed down to the finish, but I was pleased to have got under 12.30 again (12.28 to be precise) on a hillier course than Edinburgh.