Cosmeston Sprint Triathlon 2008
One week after my first triathlon - a Try-a-Tri aimed at beginners - came my first full-on tri experience with a 750m open water swim and everything. Scarey! Actually I was quite nervoud, but in the event it went off fine.
Registration was early once again - 6.10 by the lake on Sunday morning!. This was also my first race as a vet 40, as my landmark birthday had fallen on the Thursday just prior to the race. Strangely, I feel younger since turning 40. Yes, really!
Anyway, after the as-you'd-expect obsessive/compulsive racking of the bike and check and recheck of the transition area, I was into my wetsuit and waiting at the lakeside with 90 odd others on a bright, slightly misty morning with the lake itself resplendent and calm, with a few curious swans eyeing the triathlon hopefuls in their inscrutable fashion.
My main worries were being cold in the water, cold after getting out of the water, open water navigation, the long run to the transition from the lake (75 whole metres!) and the getting-your-wetsuit-off-quickly business which had been problematical in training. Anyhow, I felt well ready when the time came to get in the water, with bodyglide liberally smeared on wrists and ankles, and the water was surprisingly OK. It was a bit chaotic getting us all in line for the start, but eventually we were gathered, treading water alongside a buoy the size of a mini cooper and under starter's orders. A muffled shout and we were off - I tried to just stay relaxed and go the distance without getting out of puff (this would be my longest ever swim in a wetsuit). There was enough space to swim without too many collisions, but once or twice I had to stop and do a stroke or two of breaststroke to let someone in front get out of the way. no punches or kicks in the face, no elbows knocking my goggles off, no mines, torpedoes, barracudas or pirates from the carribean.
The nice thing about the huge dayglo buoys was that even I could see them - and the miracle was that the first one seemed to be rapidly approaching. My goggles were steaming up, but I could see the orange blob and managed to navigate my way around it as the swimmers all bunched at the turn from their spread-out formation in the straight. After turning I felt like I was going fairly slow, and being passed, but my main worry was the fogging. I paused and trod water trying to lift my goggles and clear them - mistake! Water in goggles, breathing difficult, treading water seeming harder than actual front crawl - got head back in the water with goggles barely on, leaking water, carried on. One or two more abortive attempts to clear them then I thought stuff it, I'll find that second buoy somehow and I continued with my now rather limited vision, relaxing back into the swim and finding myself remarkably ok energy-wise. The Zoot wetsuit was awesome - I felt warm, unrestricted and my feet were kicking close to the surface, much better than the position I manage in the pool. I followed the other swimmers and found myself almost on top of the second buoy before I saw it - then it was the home straight heading for the quay where we had been briefed to get out on the decking, not the dangerously slippery ramp. I couldn't see where I was heading, but could make out shapes of swimmers climbing out in front of me, so I just swam until I touched the something wooden and got out -aargh, I'm on the ramp - it was murderously slippery so I carefully crawled on to the decking and began the run to transition.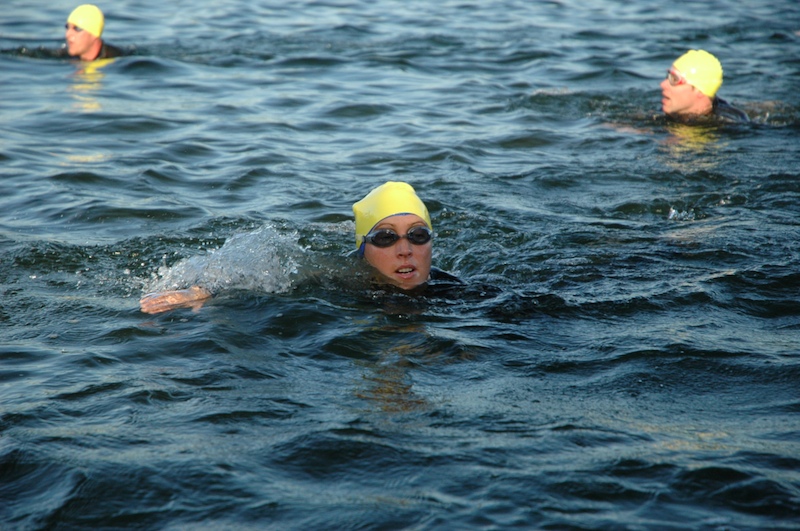 Thats me in the top corner looking for the way out!
Wetsuit came off the arms easily as I ran - I was pleased to have finished the swim without any disasters - the run over gravel was over quickly and we were treading on soft, long grass coming into the lovely meadow that served as the transition area. I had thought I was way down the field, but realised there were still loads of bikes on the rack so I couldn't be that far back - maybe 35th ish? Transition was fine - holding the bar I got the wetsuit off using my feet in just a few seconds, then it was goggles off, glasses on, helmet, number belt, bike......run the bike out (helful marshals shouted the route) then jump on at the line and take a right towards Barry.
The bike leg went fine - I was on roads I knew well and soon found myself getting into a rhythm and passing others who had done the swim somewhat quicker than me. There was no problem following the route, which was well marshalled and signed, but it was really hilly and the climbs were quite testing. I sat back in the saddle and span my way up each one, trying to work hard but not totally flat out, saving something for the run. The route is an out-and-back, so I estimated that I was around thirtieth or perhaps a little better, judging by the numbers coming back the other way when I approached the turn. I passed quite a few and a couple passed me, and I managed to go flat out on the downhills (something I'm reticent about in training - several childhood bike crashes are to blame!).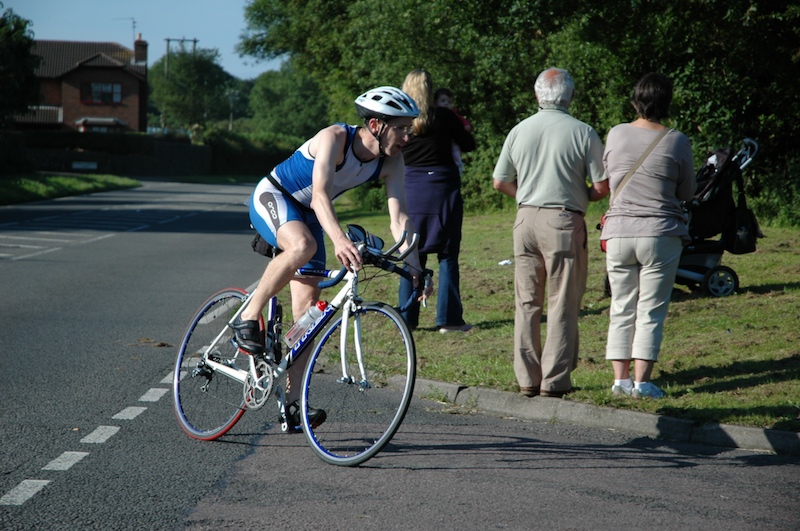 Back at Cosmeston I was a bit uncoordinated getting out of my bike shoes and into my 902s, but I came out of transition ahead of someone who'd finished the bike ahead of me so it couldn't have been that bad. The run route was a beautiful, tranquil and flamin' hard jelly-legged burn up through the woods, with no runners visible ahead or behind for most of the route. This made it seem longer than it actually was, but it was a nice contrast to the swim, and very meditative - I had to concentrate hard to keep the pace flat out and not allow myself to relax (usually the person catching up from behind induces that kind of concentration:) . This paid off when I caught the pack up and passed a couple of them to finish 24th, feeling very happy to have completed the race at a pretty high intensity and in a time of around 1.15 ("ok for a novice").
I came away really inspired and keen to get another tri booked up asap. I even asked my contact at Saucony to get me in to the 2009 Half Ironman. Enthused or what? Great experience. Thanks are due to Cardiff Tri for a great event. OK, the water quality is dubious but I'm writing this a week later and no signs of leptospirosis as yet :)
Pictures are from the cardiff tri web page.