Salisbury 54321 10k
Lots of events claim to be "for runners, by runners", but this event really does offer something for everyone - except perhaps elite runners looking for a burn up or those dead set on a PB.
What you do get is a beautiful course, relaxed and hassle-free registration and, somewhat uniquely, a choice of distances from 5k to marathon.
Still too injured to run fast let alone race properly, I was starting to miss that race day feeling so when my wife Fran and her friend Amelia (both fellow members of the Sri Chinmoy AC) signed up for this one I opted to go down and walk the 10k. My last outing at this distance was a PB of 37.49 at Weston a year and a half ago, but this time I would be just there to take part, enjoy it and get across the line without knackering my knee any further. My physio's regime allowed for about 18 minutes of easy running, so I planned to walk about 7k then jog to the finish.
Team mates Amelia and Fran at the start.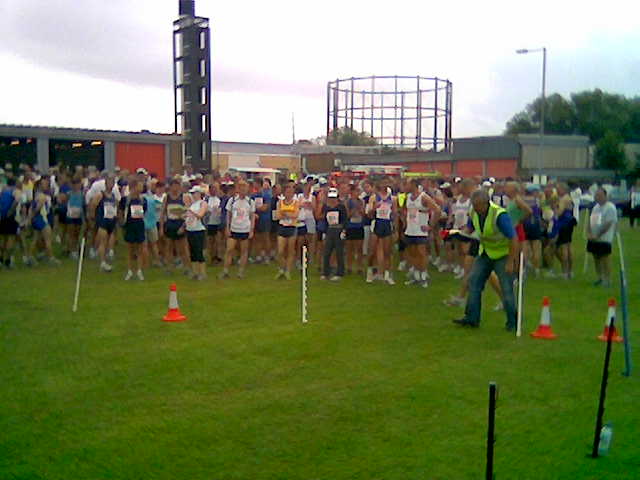 Runners line up for the mass start for the 10k, 20k and 30k.
Although walkers can come along and start any of the courses at any time - just picking up a course map and directions and heading off up the trail - the organisers get runners together for a mass start for the marathon and then again half an hour later for the shorter distances. This makes a proper race of it, though because some of the courses require you to sign in at check points you are unlikely to get a PB and if you come to a checkpoint when there's a queue you will be at a disadvantage if you're racing against someone!
We set off at 9.30 - Amelia was doing the 20k and Fran and I were signed up for the 10k, but all three sub-marathon groups went off up the same route to start with, on cycle tracks and paths towards the hill fort of Old Sarum. I was walking as fast as I could, determined to stay in touch with the slowest runners so I would have something to aim for at the end (even though I was certain to be nearly-last, I wanted to have some kind of target to keep me motivated - and not coming absolutely-last seemed like a reasonable one to aim for!).
As we approached old Sarum I was still in with the slower runners, enjoying the painful gait of the inexperienced race walker which I remembered well from my 12 hour walking races in New York. I also remembered that after half an hour or so that pain in the calves would subside as I warmed up those muscles to the unfamiliar experience of walking flat-out. Once on the ramparts of the hill fort we had amazing views over Salisbury - the Cathedral is on the horizon for much of the 10k course, and the countryside around the city is gorgeous too - in a soft, South-of-England-downland sort of way. I overtook some slow runners on the way up the ramparts and then found myself stationary in a queue for a style - this happened a couple of times, but the runners all seemed grateful to get a breather after the climb, enjoy the views and exchange a few humorous comments. A very British race this - good-natured and orderly queueing is one of our national pastimes.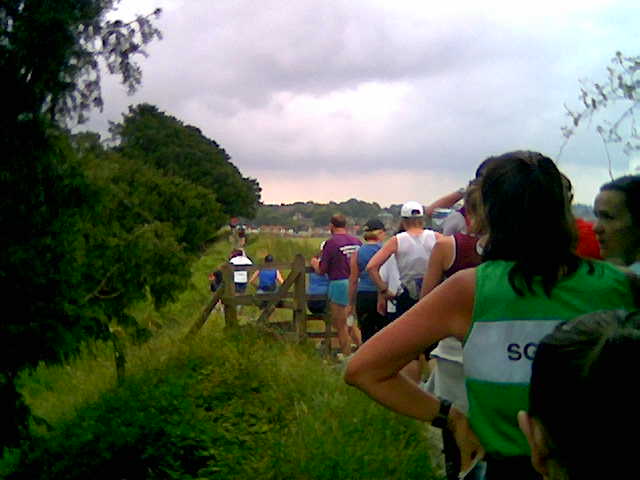 After Old Sarum the longer courses diverged from ours and I powered on at the back of the field, still able to see Fran running up ahead of me and wondering if I would be able to catch her in the last three kilometres. People often complain about being at the back in a race, saying it's humiliating or whatever. I often havve runners enquire about the expected pace of slowest runners in our club events, saying "I want to do your race so long as I won't come last" or some such. Anyhow, I may not be quick but I rarely have this experience of being right near the back, and I can tell you it's great. You just get on with your own race, chase your own target and enjoy whatever the course has to offer. Last place? Who cares. If no-one was willing to come last, there would be no races, would there?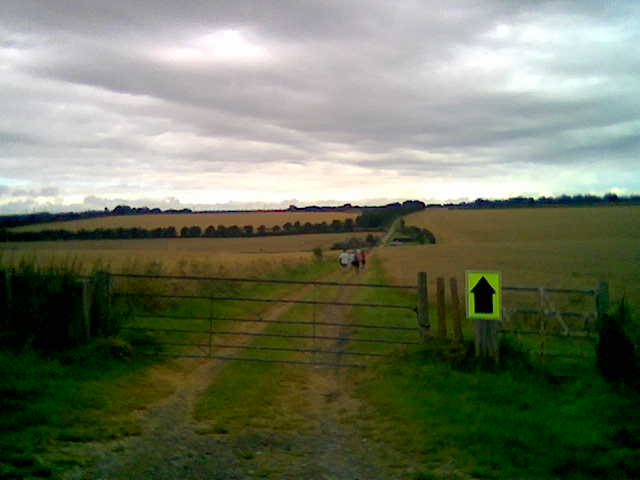 I gained ground on the hills, then on the flat the slower runners would pull away from me again, inspiring me too work harder to stay in touch. We wound over chalk downland on a succession of beautiful droves and bridleways, with a couple of checkpoints (no need to stop, just show your number) and there were even drinks at several points. We had a light shower but not enouugh to make it worth sticking my jacket on. There were no distance markers so I picked a turn on the map that I guessed would be about 7k and decided to stick to walking until I got there. The second half of the route took in some lovely tree-lined lanes and then a minor road through a village, then once at the junction I'd picked out on the map I broke into a jog. I'd soon overtaken a handful of runners and as we came to a turning off the road onto a riverside walkway (like a boardwalk, or decking) I ran into Fran and a couple of other runners pondering over the route. With no sign at that point we followed common sense (and the directions had we bothered to read them) and followed the river downstream. Fran was suffering the after effects of some long training runs and some short nights of little sleep so we stuck together for the last mile or so at an easy pace to finish in about seventy minutes.
It was nice to finish an event together and we had time to chill out and get a drink before Amelia came in - a fast finish bringing her second place among the ladies on the 20k.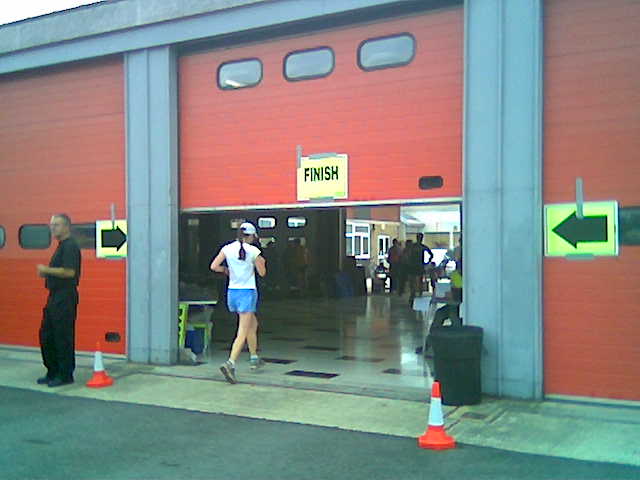 I love the Salisbury countryside and hope to make this event a regular - hopefully next year I can at least jog the 10k, maybe more. Fingers crossed.