40 Summits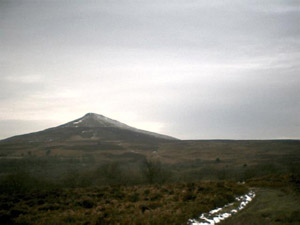 As a kind of new year's resolution, and to celebrate a significant 40th anniversary that falls in April of this year (2004), I decided to set myself a challenge to run to the summits of 40 Welsh mountains.
I've always loved being in the mountains - for me its inspirational, or you could say spiritually uplifting, to be able to run in that kind of country. The body may protest at the arduous climbing, but the soul finds a special sense of freedom in these high and lonely places. Often when running these 40 mountains I was struck by the "otherworldliness" of the high ridges and summits I ran to - the contrasting weather up there made this feeling all the more intense. On many occasions the conditions were quite easy in the valleys, but became a major test of my (limited) endurance and perseverance once I climbed up into the cloud, snow, hail and gale-force winds.On those days, I lingered no more than a few seconds on each summit before fleeing to the relative safety and shelter of lower ground.
I chose the 40 highest peaks in South Wales from the Tacit Tables (a classification of mountains and "tops" for the UK). Because of this, a few well known tops don't appear on the list (eg. Corn Du, which is really a twin-peak of Pen Y Fan) while a few lesser known ones do (I'd never heard of Allt Yr Esgair).
I thought beforehand that the main physical challenge would be the physical resilience and endurance required - injury has kept my "long" runs down to a max of one hour over recent years, but running on the fells seemed easier on my joints and tendons than the roads did, and I was confident the body would stand up to it. As for the endurance side, I used to run marathons, so I thought that stamina should (!) return, hopefully. In the event, I found I was fit enough to run for two or three hours in the mountains at a time, but my attempt at staying out there for 5 hours was a little too much. The biggest test was always the weather and the terrain, rather than the ascent. The difference between "trail running" and "fell running" was brought home to me quite starkly when I found myself tackling open country with rivers to cross, bogs to negotiate and wide areas of tussock grass and heather to get over.
I apologise in advance for the amateurish photography - I have a dinky camera that is no hassle to carry up a mountain, and its great fun to use, but in inexperienced hands the results from it may offend some "real" photographers. My account of the mountains is fairly factual, and written more as a personal journal than to entertain or inspire others - what I'm trying to say is you may find it a bit boring, but if you love hills and mountains like I do, perhaps you won't....
Some more details about the mountains