Three Counties Revisited
Another month coming towards its end, and having set myself the goal of an RRtY, I was out there on another epic 200k. In this case we were starting at Droitwich and heading out through Worcestershire, Herefordshire and I'm guessing the third county was Gloucestershire, though out there in the Marches it's often not obvious which county you're in. It tends to merge into a rural dream that doesn't neatly match up with definite lines drawn on a map. The weather was kind once again, very cool but clear and dry as we headed out of Droitwich via numerous little roundabouts and backroads, soon finding ourselves on lanes with not a car in sight.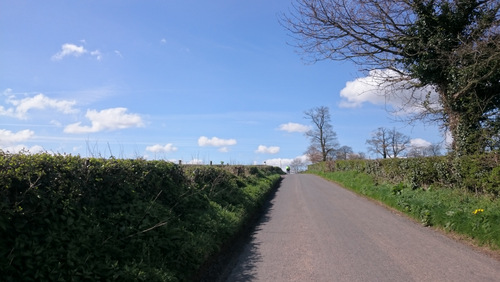 There were info controls from quite early on which I was a little unsure of, but although they break the rhythm of the ride they're a part of the Audax experience and noting the colour of a cottage or the wording on an obscure signpost reminds you of the uniqueness of these events - it ain't no signposted Sportive!
My aim for the day was to ride a decent time by my standards (sub 10.30) and not "blow up" due to poor fuelling. Three breakfasts had left me feeling bloated but well fuelled - would it work? I was working on the theory that I'd heard from a friend that it really takes 3 hours for the complex carbs to break up and turn into glycogen so having stocked up in advance, I made sure I had a proper stop at the first control in Tenbury for beans on toast and loadsa tea. Sport nutrition at its finest! Then came the beautiful ride through undulating lanes around Thornbury to Bromyard. I grabbed a selfie with my phone but had to take my hefty waterproof glove off to do so, meaning the photo looked ridiculous. Oh well.
The roads were quiet again and I found myself riding with a nice guy called Jack - having exchanged names I of course had to explain mine which passed the time! We were both taking it relatively easy but when we hit the lovely village of Weobley, where many of the riders regrouped, only just over 5 hours had ticked by and I was on for my target time, although it was a little shy of half way. I fuelled up more in the Green Bean cafe - amazing butternut squash soup and almond tart, more drink, plus a refill of my water bottle. Stupidly I left the full bottle on the wall when I was putting my gloves and helmet back on, so I left Weobley well carbed up but with only half a bottle of nuun to drink and not much civilisation on the roads ahead.
I felt strong though and rode a good pace into the Wye Valley and then to Wormelow and the testing rolling hills around Hoarwithy where we crossed the river and turned towards the Malverns. The views were amazing, the legs were tired, I was getting very thirsty but the fuelling was working well and I wasn't wasted. In Ledbury, the final control, I got lucozade sport in my bottle and some junk to eat (twix of course) then I headed out of town just as Gavin the organiser was riding in - seemed like the whole field was pretty closely packed. The Hollybush climb was a lovely road and probably the easiest way over the Malverns - then a steep descent and undulating lanes skirting the eastern Malverns towards Worcester. I soon got caught by some younger roadies but I stuck with them in the final hours through Worcester to complete 200k in 10:05 and finish the ride in Droitwich in 10.25. Those last 2 hours were a hard ride but it had all gone according to plan. One more month ticked off, with the May ride scheduled for 8 days later. Hope the weather is as kind again - it will be a solo ride and I won't be chasing a time target, just starting out from home early doors and aiming to get home in time for tea. A very English approach to a sporting challenge!