Self Transcendence 24 Hour Race
Self Transcendence 24 Hour Race Results
Self Transcendence 24 Hour Race Photos
I first came to Tooting Bec Track for the 24 Hour Race as a lap counter/helper back in the early 1990s. At that time I was a novice runner, and was truly blown away by the efforts of the athletes taking part. At that time I had set myself the goal of running a marathon, a daunting prospect for someone who had run nothing longer than a five miler, so to see people clocking up well in excess of one hundred miles was awe inspiring. I remember hearing these runners and walkers referred to as "centurions" when they reached the hundred mile mark. I decided that one day I would have to run in this race, and see if I could also become a "centurion".
In June 2005 I finally found myself both injury-free and confident enough in my fitness to send in an application. Preparation went well, with reasonable weekly mileages (40-50; good by my standards!) and a couple of long events in August (Marathon and 47 miler) all going pretty much to plan. In the last couple of weeks things fell apart a bit - I suddenly had a sore throat and repeated headaches - was I going down with a cold? Should I train? I rested just in case. In retrospect I reckon there was nothing physically wrong and these were symptoms generated by anxiety. When you have cherished a running dream like this for over a decade the fear of failure looms large in your mind; I would have been very disappointed had illness caused me to drop out before even reaching the starting line.
On race day I woke feeling OK and keen to get going. The midday start gave me plenty of time to get to the track and set up my personal drink station. Each runner has a trackside area which is the equivalent of the "pits" in a Formula One race - only with ultra-running the helpers are usually clubmates or relatives rather than mechanics. Some runners are self-supporting, but for most a "handler" is enlisted to mix drinks, monitor fluid/food intake and generally keep an eye on the runner's wellbeing. In my case I was blessed with the help of my good friend Ed from midday to midnight and my wife Fran from midnight to the finish. Both are experienced handlers. Ed is a veteran of Tarit's West Highland Way backup team and has also been my helper in a 47 mile race. Fran has run several marathons and taken part in the Self Transcendence 47 Mile Race and 12 Hour Walk in New York - she has also been my helper in the 47.
The pre-race briefing was given by race co-ordinator Shankara Smith - when she mentioned that being off the track resting for five hours or more would lead to automatic retirement from the event, my fellow runner Ray McCurdy suggested he might make a bed for himself on the track so he could sleep without being "timed out". I laughed at this joke until some of the other runners told me he probably wasn't joking:)
After the briefing there was 20 minutes before the start - time for me to seek a bit of privacy in my car and get in a pre-race meditation. It was quite a powerful experience - perhaps I was getting some kind of blessing for the race or maybe my soul was happy that I was getting out there and doing it - anyway, whatever the reason the meditation calmed any last minute nerves and got me to the start in a very cheerful frame of mind.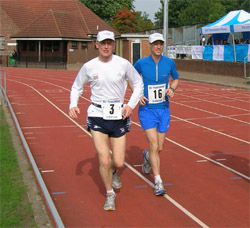 Myself and team-mate Tarit Stott
For the first four hours I went slowly - nine minute miling or so - until Tarit mentioned I might be going too fast. I dropped back a bit, running alongside Tim Rainey and Gil John who are a couple of entertaining characters. You could say that about all these ultrarunners really - each one is a truly unique character. Perhaps you have to be to go out and take on the challenge of 24 hours of exertion.
I started drinking early, mindful of the need to get lots of fluid down me throughout the race. I was getting energy gels from 90 minutes onwards and solid food from two hours - energy bars at first, later instant mash potato. You need carbs, but you need them in a form that goes down easy and doesn't weigh heavily on the stomach. The others had all kinds of concoctions from the high tech sports drink down to the humble marmalade sandwich. I was expecting the first difficult patch to come around 4-5 hours, that point when I would be getting up to marathon mileage and coping with the body's adjustment to the depletion of glycogen in the muscles. As England were playing Austria at football at 4pm, I grabbed my radio and listened to the game. This kept my mind occupied while I just stayed on the track slowly accumulating laps and getting into a regular feed pattern - drinks twice per hour (GO Electrolyte 4% solution), energy gels every 30-60 minutes and instant mash every two hours washed down by sweet tea (soya milk in the tea - less fatty).
After Beckham had got sent off but Lampard's penalty had won us the match, I swapped the radio for my MP3 and spent the rest of the race listening to a combination of meditation music and Sri Chinmoy's poems. Having headphones on put me in a bit of a bubble, so to speak, but it was immensely helpful as I found myself much more focussed and concentrated on the task in hand while at the same time a bit detached from tiredness, discomfort etc. Rain came, as forecast, between 6 and midnight but a windstopper jacket and running hat kept me dry and comfy. I had set myself a target of 60 miles for the first half of the race and forty for the second. At six hours I was up to 32 miles and felt like it was all going ok. The seond quarter - predictably perhaps - was not so easy and I had only managed 59 miles at midnight.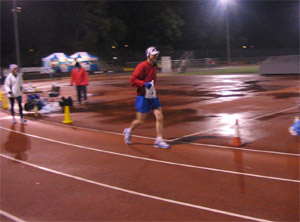 Long day's journey into (a pretty damp) night
My feet were starting to hurt a lot - the track suddenly seemed very hard. Temperatures dropped, so I kept my jacket on even after the rain had passed, and I changed shoes to get some fresh cushioning. At one point Fran came and urged me to put on some running tights or tracksters and a thermal top - I wanted to stay in shorts for comfort but when she told me the temperature was only six degrees I realised a thermal was a good idea. Straight after changing into warm gear I sped up - I had been getting cold and consequently feeling sluggish without even knowing it. I guess that's why you need a handler.
As the night wore on, the foot pain became unbearable and it was obvious that this was the only thing standing between me and my goal of a hundred miles. My energy levels seemed fine - exhaustion came repeatedly in waves but each wave was short lived and dealt with by slowing down, getting some food, drink or powergel or by some kind of distraction like sharing a joke with a fellow runner to keep the spirits up. For the last ten hours of the event my feet were tormenting me - presumeably I had just not done enough road miles to condition my feet for the challenge of such a long distance, and racer-trainers that had served me well in 40 and 47 mile races seemed to be just not soft enough underfoot for 12 hours plus. Fran found me some painkillers which helped a little - possibly a bit of placebo effect thrown in. The strange thing was that the pain was worse when I walked and eased slightly when I ran. Of course, I didn't have the energy to run continuously so I couldn't avoid the pain except by stopping - and I knew it would be a big mistake to stop even for a few minutes. Eventually I rememberred having packed some sorbothane insoles (in pre-race anxiety I had packed most of my worldy possessions to be honest) and these proved to be a lifesaver. The balls of my feet still hurt, but the pain was manageable both running and walking, so I was able to stay on the track.
Fran took a few seconds of video at this point - click here to see it.
By the time I got to the end of the "third quarter"with 18 hours on the clock, I knew that 100 miles was definitely within reach. The counters applauded me when I reached 150km, up in the low nineties in mile terms, and I kept an eye on the board after every hour to see the number of miles against my name and see how far I had to go. Soon I guessed I must have about eleven laps to go, but Fran came over having checked the score sheet and told me it was only "nine and a bit". Getting a couple of free laps was a real morale booster. I counted them down; eight and a bit, seven and a bit, and so on; each lap taking anything from three to five minutes. Then I had only "the bit" to go, and the referee Don Turner was strolling down the track ahead of me looking for a tiny chalked line at the trackside that marked the hundred. He noted down my time and Fran took a picture. "I've waited years for that" I told him. He smiled and headed back to the timekeepers' room.
100 mile mark is just...............there!
After reaching my target distance I couldn't maintain my pace, but was determined not to stop or take it too easy; it is, after all, a 24 hour race not a hundred mile race. I managed almost seven more miles in an hour and three quarters to make a total of 106.86 miles or 171.37 km. That last few miles was hard - the pain returned in my feet and made progress difficult, and I was unable to hang on to eighth place (a position I never expected anyway at the start) when Liz Neville came through strongly at the end and overtook me by a mile and a half. For me it had never been about finishing positions, just about giving it my very best shot and, if humanly possible, becoming a centurion. Having said that, when I was handed the trophy for sixth place (in the men's senior category) I was thrilled - I'd never won a trophy before! I am extremely grateful to all the event organisers and helpers, especially Shankara Smith, for giving runners the opportunity to test themselves over these long distances. The care I received from my helpers, the lap counters, the food/drink station helpers and everyone else involved was outstanding.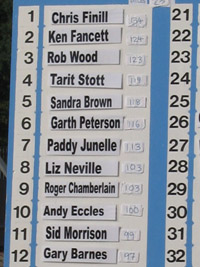 Scoreboard at 23 hours - me applauding everyone finishing at the stroke of midday - and me v happy with trophy :)
The inspiration for the race, and the inspiration for my own participation, comes of course from one source; Sri Chinmoy. It was his "Run and become" philosophy that led to the foundation of the Sri Chinmoy Marathon Team in the USA and soon afterwards to countless similar clubs in other countries. Here in the UK the 24 Hour Track Race has long been the flagship event for the Sri Chinmoy Athletic Club, and having taken part in it myself now, I can see why.