2 Mile Race, Antalya, turkey, Jan 2014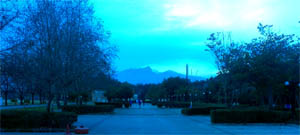 A mild morning on the Mediterranean coast of Turkey was the setting for another 2 mile race, this one boasting a field of 80 or so international runners from centres as far apart as Ukraine and Auckland. Still unable to run the whole distance, I set myself the target of getting under 20 minutes with a walk-jog combination of 3 mins walk to 1 min jogging. A modest target on the face of it as I used to run 2 milers in eleven-something but when you're trying to speed-walk most of the race, 10 minute pace is quite a big ask!
We gathered at seven thirty in a car park by the beach for our customary race briefing, moment of silence.....then off into the forest on a twisting, pot-holey roadway that snaked through the trees for around half a mile. The course was a double out-and-back and with over 200 of us in town for a week, there were plenty of marshals and recorders supporting us with smiling, clapping and all the usual enthusiastic and humorous comments.
At the first turnaround I clocked 5 minutes, so I was on the pace, and managing to keep up with one or two of the slower joggers. As they warmed up that got harder, but as I came in quite few seconds under ten minutes at the half way mark I guessed it would be no problem. Walking at that pace requires a lot of drive - you can't relax or let yourself loosen up, and the motion just seems more awkward and less fluid than running. Anyway, I got to the final few hundred metres keeping pace with a couple of joggers including Dinesh, and staying close behind him to stay on pace got me through. I jogged over the line in 19.38, well pleased and feeling like I'd had a good workout.
After everyone finished there was another moment of silence, one of Sri Chinmoy's "race prayer" poems was read out and the happy/exhausted finishers (delete one or both as applicable) made their way back up to the clifftop hotels.
If I can keep decreasing the amount of walking as my injury heals up, I should be able to keep bringing those 2 mile times down by a few seconds every time we get together, so that's the aim right now. Progress!