Kings, Castles, Priests & Churches - my first 200km AUDAX ride.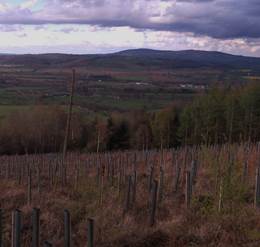 Well it's been a while since I did a "first" of any kind, so it was great to be lining up in a car park in Tewkesbury in the dark for my first Audax ride (also my first 200k, so the longest ride I'd ever attempted). Here are my impressions of the event - as a first timer I'd had little idea of what to expect, how many and what kind of cyclists would be there or what kind of shape I was in. As it happened they were a really nice crew taking part, and I was in no shape at all! But although I struggled a bit on the way I did complete the distance and it was a very, very rewarding experience.
The start was at seven, and there were around fifty or so riders gathering in the darkness for a 7am start. When the hour came we rolled out into the town and soon found ourselves on a quiet B road heading for the Malverns. We all had plenty of lights and reflective gear, so some rode in bunches safely enough, but I wasn't fit enough to stay with the lead pack and soon settled in to single file with a couple of other loose riders. Most were on road bikes with mudguards, and quite a few were sporting large saddle bags. The guy in front of me had an audax-branded one declaring his 10,000km of audax rides. Strewth. It was cold but fears of ice did not materialise.
Slowly the dark spine of the malverns appeared in the twilight and we passed through Ledbury not long after dawn. There we had to spot the name of a bank on a junction – an "info control" to prove we had followed the right route. Ledbury is a gorgeous town with ancient buildings and a wide old high street, even in the semi-dark it was atmospheric. Out from the top of the town it was soon back to the winding, rolling B road that snaked all the way to Bromyard. By now it was broad daylight and the Malverns were visible way over to the right at one moment, then the mountains of south east Wales to our left the next. In Bromyard the café (first control) was easy to find from the bikes lined up against the walls either side of it – most weren't locked but having lost a bike to theft a few weeks before I took the time to stick a heavy cable through my back wheel. Inside it took around 20 minutes to queue up in the steamy room full of riders eating and drinking to get myself the required stamp on my brevet card and to quickly down a hot chocolate. I decided it was too early to eat, and after seeing it was around 9.15 already and the route card showed I'd only covered 45k, I decided to get back on the bike and try and cover the next stage a bit quicker. Heading up the road to Tenbury and then on to Ludlow it was more of the same – lovely scenery, rolling hills all around (and lots of ups and downs en route, of course), quintessentially English villages, hardly any traffic. I pushed the pace a bit as I had it in my head that I could keep up a steady 25 km/h but with all those hills perhaps this was a mistake!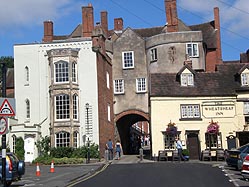 In Ludlow I went to the Tourist Info for a stamp instead of the official control – this was listed on the route card as an alternative to avoid delays – but then I did an extra loop through town having misread the directions which were from the official control rather than the alternative one. This only delayed me about five minutes and soon I was on the biggest climb of the day – Mortimer Forest. Not a steep climb but a long, long, steady drag with the forest on one side of the road and a vast, open vista over the Shropshire hills on the other. I had eaten a couple of energy bars and the climb was not too challenging, but once down the other side and looking for the route to Lingham I was definitely feeling a little short of va va voom. I missed a turning, but again this only delayed me a couple of minutes, and I was soon on to the section to Brampton Bryan which was all on tiny, winding and quite rough lanes. The hills came thick and fast, and some quite bumpy descents too (one straight down to a muddy road through a farm which was a little alarming). Riders started to pass me and despite getting more bars down me I realised at the 90k mark that I'd underfuelled seriously and "bonked" at quite an early a stage. On the hills I was crawling up in my lowest gear when I should have been keeping up a much stronger pace. How was I going to get round another 110k? I gritted my teeth and reminded myself that a second wind can always come, and a third and fourth if needed, and fixed my mind on trying to endure the next 20k to the café in Kington as cheerfully as possible.
The first 10k of those 20 were very long and physically hard – everything started to hurt. A lot. Back, feet, knees, neck. Legs too of course. Everything was getting painful. Then I tucked in behind two guys and followed a wheel out of Presteigne (another info control there, spotting the name of a house on a mini roundabout) all the way to Kington. That café was a welcome sight! I made it up the stairs and ordered beans on toast with extra toast and a mug of tea. It took a few minutes to come and disappeared quick. The upstairs room was full of riders coming and going, getting a meal and chatting before getting back in the saddle. It was a very friendly event and everyone was very supportive. It's clearly a very unique scene, with lots of riders knowing and recognising each other, but newcomers like myself were met with a smile and a chat, which was quite refreshing. After half an hour or so I still felt a bit knackered but with that food inside me I knew I could finish at least. Back on the bike I felt as if having bonked earlier I was never going to feel 100%, but I was happy to settle for "better than I felt at 90K!".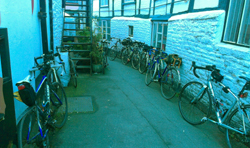 The route was closed out of town for some reason, with diversion signs in place, so we headed out on the A road. I couldn't stay with the others in my group as they had more go in their legs than I did, so at one point I was alone on the open road without much clue how to rejoin the proper route. I pulled over and got my phone out, found the route to Bredwardine on my GPS app and realised I was heading in the right direction anyway. Soon I was back on the course and following another twisty B road along the fringe of the Wye Valley past Moccas. Amazing scenery, ancient villages. I'd been reading Peter Ackroyd's "Albion – Origins of The English Imagination" and become fascinated by his description of genius loci or spirit of place. As the ride wore on I started to feel this more and more strongly – it's hard to describe but there's something in the land itself that beings to reveal itself to you when you're out there, exhausted, mentally impaired by tiredness and maybe therefore more sensitive to these subtle things? So as my energy gradually filtered back from the miracle cure of beans on toast (not forgetting the extra toast) I was starting to experience the ride as a journey into the ancient dream of the English landscape – a primordial and brooding silence that ran in the rivers and swayed in the trees and even seemed to seep up out of the old, old road I was riding on. Not the first time I've felt on the fringes of mystical experience on a long run or ride, and I'm sure it won't be the last.
The last control came at Wormelow Tump, a post office with a hot tea/coffee machine where I spent the best part of my last four quid on tea, Lucozade and a four pack of twixes. There wasn't much light left and the temperature was dropping like a stone. The area seemed deserted – only the shop assistants and the rag tag riders ghosting in and out, chatting over a drink before steeling themselves for the last 50k. We speculated about the light levels – maybe another hour? It was three thirty by the time I left and dusk was approaching fast. I had lights, but not mega-powerful lights that some of the others were sporting, so I was hoping to eke out 20-30k before it was properly dark. From the last control the route led us into perhaps the most magical section of the ride – rolling hills towards Kings Capel then How Capel, enchanting villages hidden in a silent valley. The church at Hoarwithy appeared like something out of a fairytale. Slowly the light ebbed away but my energy was slowly but surely coming back – the Lucozade, tea and twixes had been a wise choice. I had flashing lights on for a while to save power, then lights on full, hoping they would last back to Tewkesbury. The challenging sections of that last stage included 3k on a main road where the drivers all seemed to think the safest way to deal with an approaching cyclist is to dazzle them completely with full beam headlights. Several times I had to stop as I was blinded and couldn't see the edge of the road.
An hour or more of quiet roads followed then on to a busy B-road for the approach to Tewkesbury. Felt good to roll into the car park of the Old Hop Pole (the finish line, or "Arrivee") and get my card stamped. A wonderful ride – total exhaustion combined with rewarding inner experience, what more could you want? Next time I'll eat stacks the night before and do the same at every control. Food, quite clearly, is the key.